my.Portfolio
Having been in technology and marketing for well over a decade, I've written numerous articles and papers, published my first book, and have launched (and sold) HulaCopter, my app-based business focused on helping local merchants improve and modernize their marketing. Additionally, I've been a regular speaker at various events, from small networking meetups to large industry conferences, planned, managed, and executed Startup Hawaii's 300+ attendee "Accelerating Hawaii" event, and contribute to HuffPost Hawaii, covering Hawaii entrepreneurs, and AlohaStartups, a Honolulu-based blog aimed at expanding the influence of Hawaii's startup community.
Below is a small selection of articles and ebooks/white papers that I've written, articles and podcasts where I'm quoted, marketing videos that I've produced, and a few speaking engagements.  But before I get into that, let me tell you about my book…
Behavioral Analytics For Dummies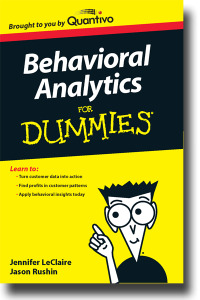 To accelerate awareness of both Quantivo and "behavioral analytics" in general, I developed the concept for and wrote Behavioral Analytics For Dummies, the definitive guide to understanding and applying behavioral analytics.
Published in October, 2009, this book gives marketing, web analytics, and business intelligence professionals the knowledge required to turn customer data into profit-driving action. Behavioral Analytics For Dummies was a tremendous marketing, awareness, and communications success for Quantivo, driving over 6,400 leads in less than one year, and generating enthusiastic coverage by several key publications, including:
From Customer Data to Decisions in 20 Minutes – A short product demo "story" video designed to be concise while clearly conveying the value possible with Quantivo's behavioral analytics solution.
Geeking Out with the CTO – I shot and edited this short video series of Quantivo's CTO explaining and evangelizing the benefits of our behavioral analytics solution.
Nextance Podcast Series – I developed, scripted, and executed this recurring audio podcast series that, being the first for this industry segment, gained a bit of attention upon it's launch.
Quotes in Articles and Podcasts

Accelerating Hawaii's Startup Innovation, August, 2012 – In addition to planning, executing and securing speakers and sponsors for this two-day event, which featured local and national accelerator executives, startup entrepreneurs, and a keynote by Steve Case, chairman of Startup America, co-founder of AOL and CEO of Revolution LLC, I delivered the opening address to set an exciting tone with over 300 attendees and guests.
Web Analytics Wednesdays, various dates and locations in 2009 and 2010 – I've been the featured speaker at nearly a dozen of these local events designed to advance and share web analytics and online marketing expertise.  Cities in which I've delivered for this program include New York, San Francisco, Boston, San Diego, and Santa Monica, with audiences ranging from 20 to 200.
Analytics Camp, February, 2010 – I delivered a session titled "Behavioral Analytics For Dummies" at this one-day "unconference" hosted by UNC's Kenan-Flagler Business School, Chapel Hill, NC.  With 250 analytics and online marketing experts in attendance, my standing-room-only session was such a hit that I was invited back to speak at the group's local event a few months later.
National Contract Management Association World Congress, April 2006 – "Maximize the Value of Your Intellectual Property" (Audience size: 120)
Americas' SAP Users' Group (ASUG), April, 2007 – "Fundamentals of Driving Performance from Your Supply/Customer Contracts" (Audience size: 170)
Sourcing Interests Group's Sourcing Leadership Conference, October, 2005 – "Optimizing the Supply Chain with Contract Performance Management" (Audience size: 225)