Below is a small selection of marketing content and freelance tech industry articles I've written, as well as other articles and podcasts where I'm quoted. I am also the editor of Accelerate, a new Hawaii-based print magazine highlighting the state's growing entrepreneurial ecosystem, a contributor covering the tech industry for Honolulu Civil Beat and Huffington Post, and have written two books.
I am the ghostwriter of Aligned to Achieve, a business book on the topic of sales and marketing alignment, to be published by Wiley in October 2016. The book is for B2B CEOs, sales leaders, and marketing leaders who want to solve the lack of alignment that has created strategic and financial obstacles to their organizations—obstacles that are often self-inflicted and entirely within the control of the leaders themselves.
In writing the book, I conducted more than 50 interviews with executives, thought leaders, analysts, researchers, and others to get a wide range of insights on this topic. From concept to publishing, it was a 12-month project. During that time, I spent nearly 4 months working full time on researching and writing this book.
Behavioral Analytics For D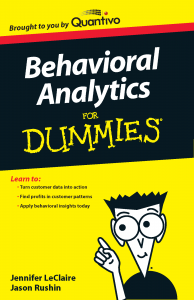 ummies
To accelerate awareness of both Quantivo and "behavioral analytics" in general, I developed the concept for, and wrote, Behavioral Analytics For Dummies, the definitive guide to understanding and applying behavioral analytics.
Published in October, 2009, this book gives marketing, web analytics, and business intelligence professionals the knowledge required to turn customer data into profit-driving action. Behavioral Analytics For Dummies was a tremendous marketing, awareness, and communications success for Quantivo, driving over 6,400 leads in less than one year, and generating enthusiastic coverage by several key publications, including:
Various Ebooks and White Papers

4 Tips to Get Sales Reps on Board with Account-based Marketing (ghostwriter for CRO), Sales & Marketing Management, January 11, 2017
Better Predictive Marketing Comes From Better Data (ghostwriter), Analytics India, August 5, 2016
State Pulls Plug On Mbloom, But Still Wants To Help Tech Startups, Honolulu Civil Beat, June 29, 2016
Sometimes The Road To Success Takes You For A Ride, Accelerate Magazine, Spring 2016
Big Data: Tech Hype or Real Marketing Concern?, Retail Analytics Now, October 23, 2012.
5 Tips to Turn Holiday Traffic Into Everyday Customers, eMarketing+Commerce, January 21, 2010
Behavioral analytics: The secret ingredient for a better cake (attributed to Brian Kelly, Quantivo CEO), Adotas, Nov 12, 2009
Best Practices to Turn Customer Behavior Insights Into Marketing Gold (attributed to Brian Kelly, Quantivo CEO), eMarketing+Commerce, April 23, 2009
A New Competency: Effective Services Contracting, Supply & Demand Chain Executive
Promoting Sustainability Throughout Your Ecosystem, Sourcing Innovation, January 23, 2008
Quotes in Articles and Podcasts

Drone Aircraft Help Save Taxpayer Dollars in Hawaii, Government Executive, April 6, 2015
Effectiveness of Data Warehousing audio interview, Beyond Web Analytics, June 14, 2010 (also named a "web analytics rockstar" by IQ Workforce for this interview).
Dumbing Down Behavioral Analytics, Behavioral Insider, Dec 11, 2009.
"They're not looking at what their sales of men's clothing were yesterday. That tells them nothing. They want to know, who bought black pants? What have they purchased in the last three weeks leading up to that black pants purchase? And what should I promote to them next? It can get very granular quickly. But if you don't have access to that data, then you are making decisions based on very high level analysis and are starting to go back to gut feel."
Using LinkedIn for Lead Generation: 6 Lessons, Marketing Sherpa, July 29, 2009.
Rushin's team saw social media as a means to raise awareness about the products and generate leads from these new audiences. So, in addition to using Twitter, blogs, and YouTube videos, the team experimented with joining LinkedIn groups and sharing marketing collateral there to generate leads.
Nextance Launches Proposal Management, DestinationCRM, March 19, 2007.
"This enables them to provide a highly polished, organized proposal in much less time," says Jason Rushin, Nextance director of product marketing.
Seizing opportunity for competitive advantage: why some companies (and leaders) are better at it than others, Carnegie Mellon's Tepper Magazine, Fall, 2008.
"You don't know when or where or from whom the good ideas will come. You need to embrace the creativity of all your employees; encouraging input from all areas."
And, on the fun side:Â Smthg gr8 4 brkfst? Twitter's hyper-short recipes, Associated Press, July 10, 2009.
That spur-of-the-moment quality also worked for Jason Rushin, a San Francisco-area resident who saw Solomon's sunchoke recipe stream by on a Monday afternoon and thought, "Boy, that's interesting. I'll try that tonight."