As a huge wine non-snob, my first stop in the grocery store is always the wine discount shelf. The way I look at it, it's like the store paid me to age their wine. Win-win!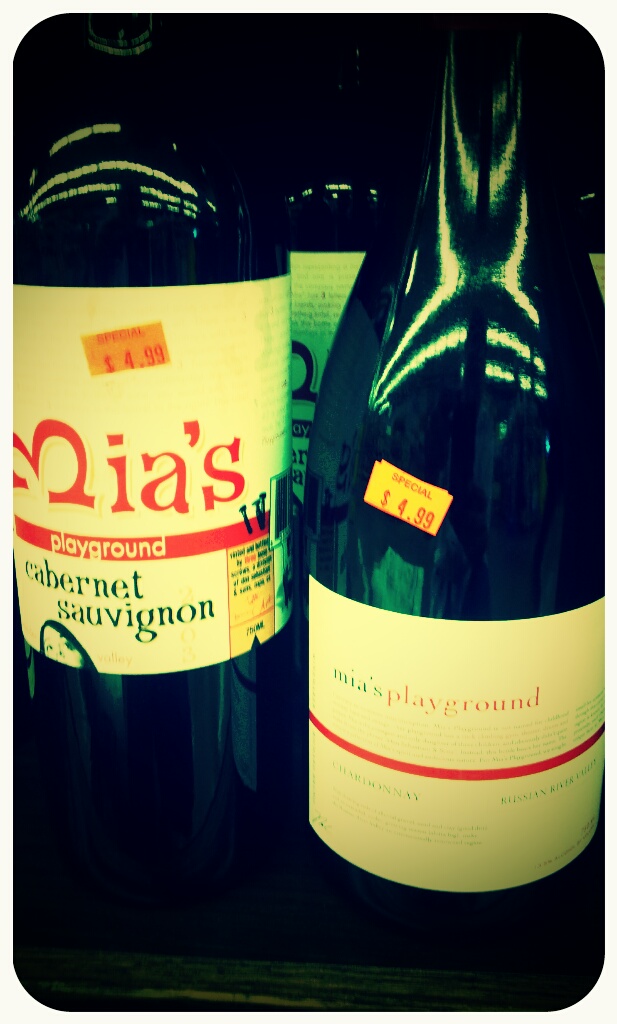 During a recent trip, however, my interests in wine and marketing collided as I spotted two wines from the same brand, Mia's Playground, sporting wildly different labels. As you can see in the photo, their Cabernet, on the left, has a fun, playful, non-intimidating label, while the chardonnay on the right has a more serious, formal design.
I'd never heard of Mia's Playground wine, but at $4.99, pretty much any wine is worth a shot. A quick web search shows that Mia's chardonnay usually retails for $16, while their Cabernet goes for about $15. That's a pretty steep discount, and makes the differences in the labels even more interesting. Why are two wines priced similarly yet sporting different label designs, and why are they both heavily discounted? Is this Mia's A/B test gone horribly wrong? Are they trying to position the different varietals for different market segments?
As I thought about it more, I wondered if the label even makes a difference. I was confident that it did, but as a quant, I needed to see the numbers…
What Do the Academics Say?
Since wine is a $32.5 billion industry in the US alone, it's no surprise that plenty of research has been put into wine marketing. Think about the logistics of the typical wine purchase: it's highly-subjective, there are tons of choices, even at small stores, and each wine has a new vintage every year. As a wine consumer, you'd probably lean towards known wines that you're familiar with (which just increases the marketing efforts required by competing wines) or, without additional information (like reviews or Wine Spectator scores), you'd just choose the one with the best marketing+price combo.
Here are a few tidbits from some semi-recent studies that show how much impact labels have on wine sales:
From a 2007 UC Berkeley study: "…the illustration used on the label had the greatest impact on both purchase intent and perceptions of brand personality."
A 2007 study from University of Reims, France, found "that when the label is authentic, young consumers don't see any risk buying the wine because the presence of the label is a definitive indication of the product's authenticity."
A paper presented at the 2010 International Academy of Wine Business Research Conference stated that "packaging can be related to between 26% and 42% of predicted price differences."
To add some confusion to the mix, or just to show that even the consumers themselves don't know what they want, I found these two conclusions from separate Cal Poly studies:
One study found that "Americans did not rank 'has an animal on it' as a desirable feature but two of the top three brands, Yellow Tail and Toasted Head, had an animal on them."
Another study found that "there is little to no correlation between wine label design aesthetics and price." However, this study focused more on font, colors, and layout over label content, and was written by an undergrad (gasp!). One interesting finding of their research was that tasting scores by Robert Parker were higher for wines with labels that were designed in a top-to-bottom format over a left-to-right format. What's up with that?
Where Was I?
OK, I'm off the rails here. Back to Mia.
As I started writing this post and googling "Mia's Playground," I learned a few things:
Having worked a stint in the wine industry consulting for Robert Mondavi Wines, I immediately recognized Sebastiani as one of the biggest wine producers in the US. With 1.3 million cases sold in 2011, that puts them at #14 on the Wine Business Monthly list of the largest North American wine producers. Sebastiani's website has them at 2 million cases in 2007, so the Great Recession has, apparently, not been kind.
Their most-recognizable brand is probably Smoking Loon, but their website shows nine brands, of which Mia's Playground is not seen. Digging deeper, I found that Mia is actually Don Sebastiani's daughter, and that her name also adorns a wine-based cooking sauce.
Wine.com shows Mia's Playground as "no longer available," and they and Snooth.com list vintages from 2002 through 2008.
$15 is "Luxury" Wine?
Marketing plays a huge role in the wine industry, obviously. This wine industry publicist says that 2% of a wine's retail price is dedicated to marketing, which translates into $650 million spent on wine marketing in the US. With that amount of spend, there's definitely room for consultants, focus groups, and, yes, even A/B testing.
More googling seems to indicate that Mia's Playground switched label designs with the 2005 or 2006 vintage from the fun version to the serious version, maybe in an attempt to spur sales or justify the price.
Sadly for Mia, a wine priced at $15-16 is considered an "ultra-premium" wine by the Wine Communications Group. (Other sources peg $15 as either "luxury" or "super-premium," so this segmentation system is clearly unclear.)
It's very telling about the US wine consumers' palate (or wallet) that 94% of wine sold is under $14 per bottle. Or, maybe it's indicating that, for those who are willing to spend more than $15 for a bottle of wine, price ceases to be a key decision-making factor? Either that, or I've been over-paying for wine for the past 10 years.
Bottom Line
Mia may have simply been another victim of the Great Recession, since the timing fits perfectly. As the economy started to slow, and instead of lowering the price, Mia tried to up-level her brand with a serious label befitting a $15 wine. With a 2008 vintage hitting the shelves in 2009, and with Sebastiani's sales dropping 35% between 2007 and 2011, Mia's bosses may have had to cut under-performing brands.
In any event, wasn't this a fun exercise!? Let me know what you think with a comment below.
I'd really love to see the sales numbers before and after the label change. But, as a marketer myself, if the change of label had minimal or even negative impact, it was obviously a sales execution problem! 😉
I've sent an email to Sebastiani to get the real story on Mia's Playground and will update this post if/when they respond…
Cheers!